Loaded Revolver DDS-1 - Rod Rack System 1.5" Frame Mount
Regular price
$450.00 USD
Regular price
Sale price
$450.00 USD
Unit price
per
Sale
Sold out
Busy boats break rods!  The versatile, patent-pending DDS-1 keeps your rods up and away from the chaos of the boat floor, tubes, and passenger areas.  It frees up space on the boat, keeps them off the banks, out of the bushes, and doesn't interfere with loading or unloading the raft.  Kids, dogs, family, and friends can now move freely about the vessel without stepping on or breaking rods. Add-on accessories, keep gear organized and right where you need it, instead of locked away in a bag, dry box, or rolling around on the floor.
Silicone grips support the rods in a grippy embrace.  If you need more peace of mind running a class 4, rotate the capture mechanism to ensure the rods will never leave their cozy home.  
The butt of your rod drops into the bottom seat and locks it into place.  The standard aluminum seat accommodates 99% of one-handed rods with either the pass-through butt seat or the larger cup to support oversized "fighting butts."  Add the patent-pending spey sling to take care of those spey rods and a wider variety of spinning rods.

Never has a system been engineered to this extent; our patent-pending designs are here to keep protect your rods and keep you fishing.  
Comes with all accessories except the spey sling!
Note:  Includes 2" ID  (1.5" sched 40) frame mount.
Materials

Machined out of 6061 T6 Aluminum and anodized our aqua blue, this device is built to last. UV resistant coord, housed in polyethylene tubing protects your precious reels from damage.
Shipping & Returns

If anything goes wrong with your Spey Sling send it back to us for a full repair or replace.
Dimensions

The diameter of the aluminum housings measures in at three inches. Add the loops and we are around six inches. The loops accommodate even the biggest butts on your two handed rods.
Care Instructions

These are built to last, but can be serviced by removing the four stainless steel screws. Or send it back to us for a full repair.
Share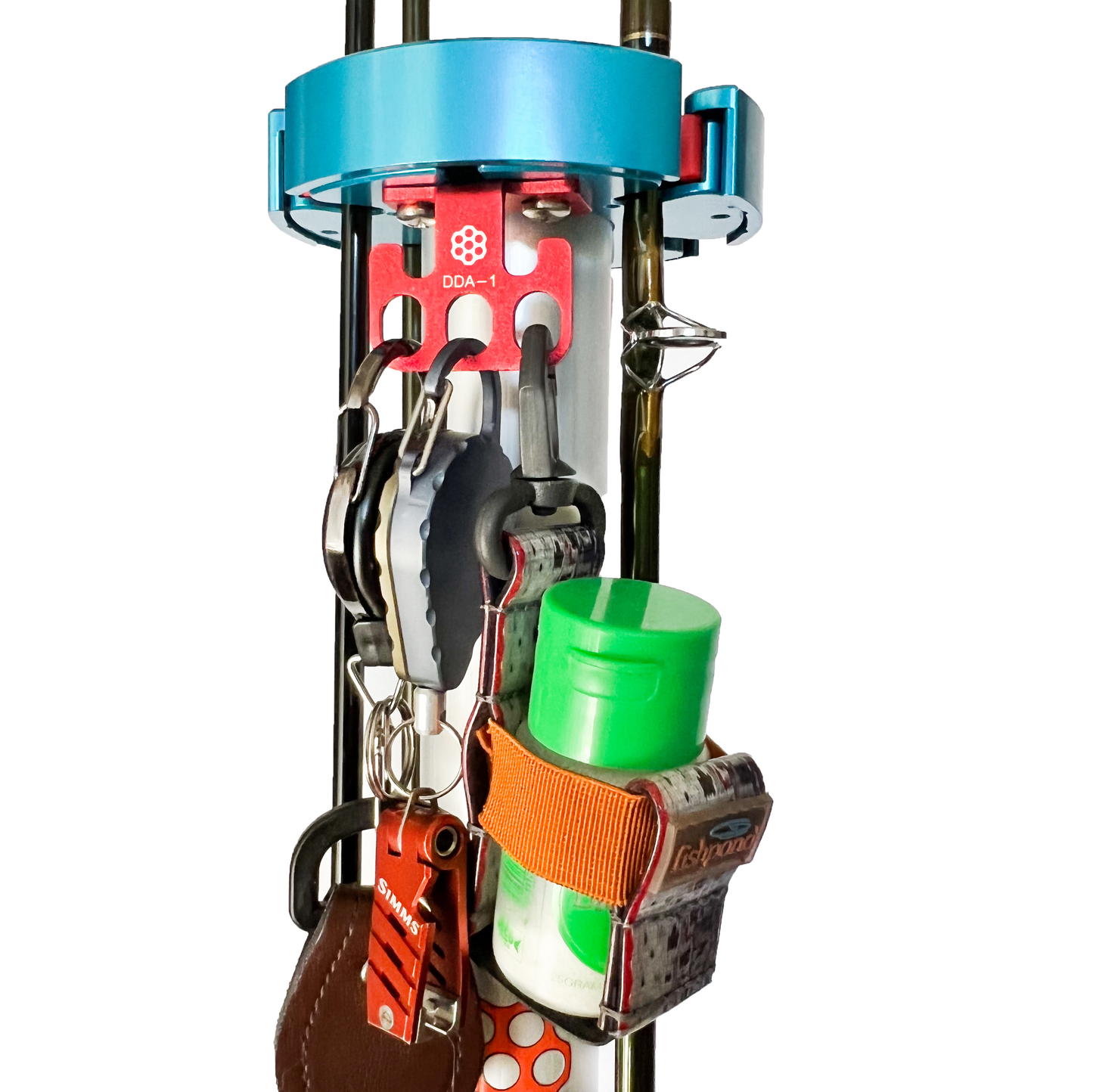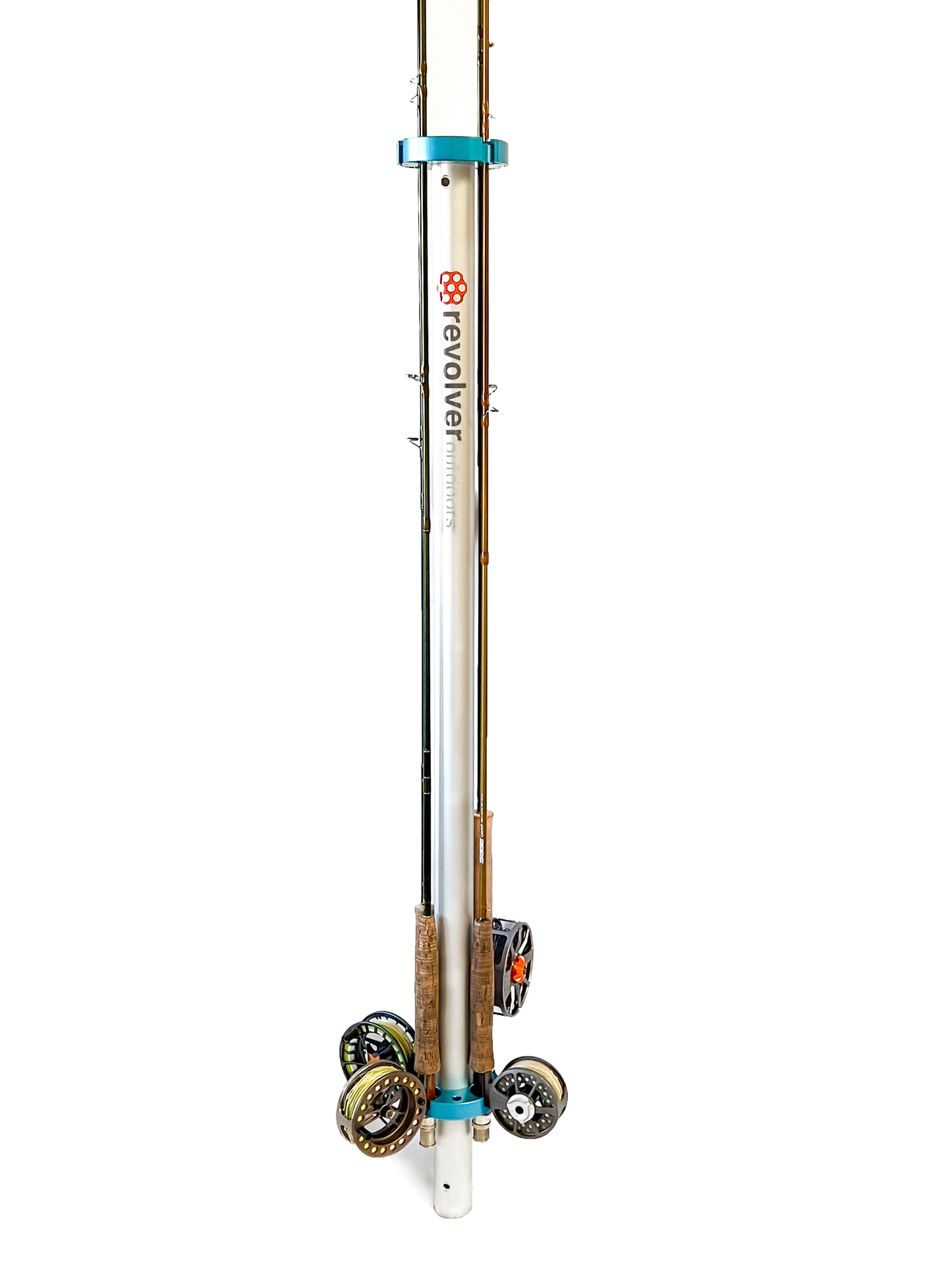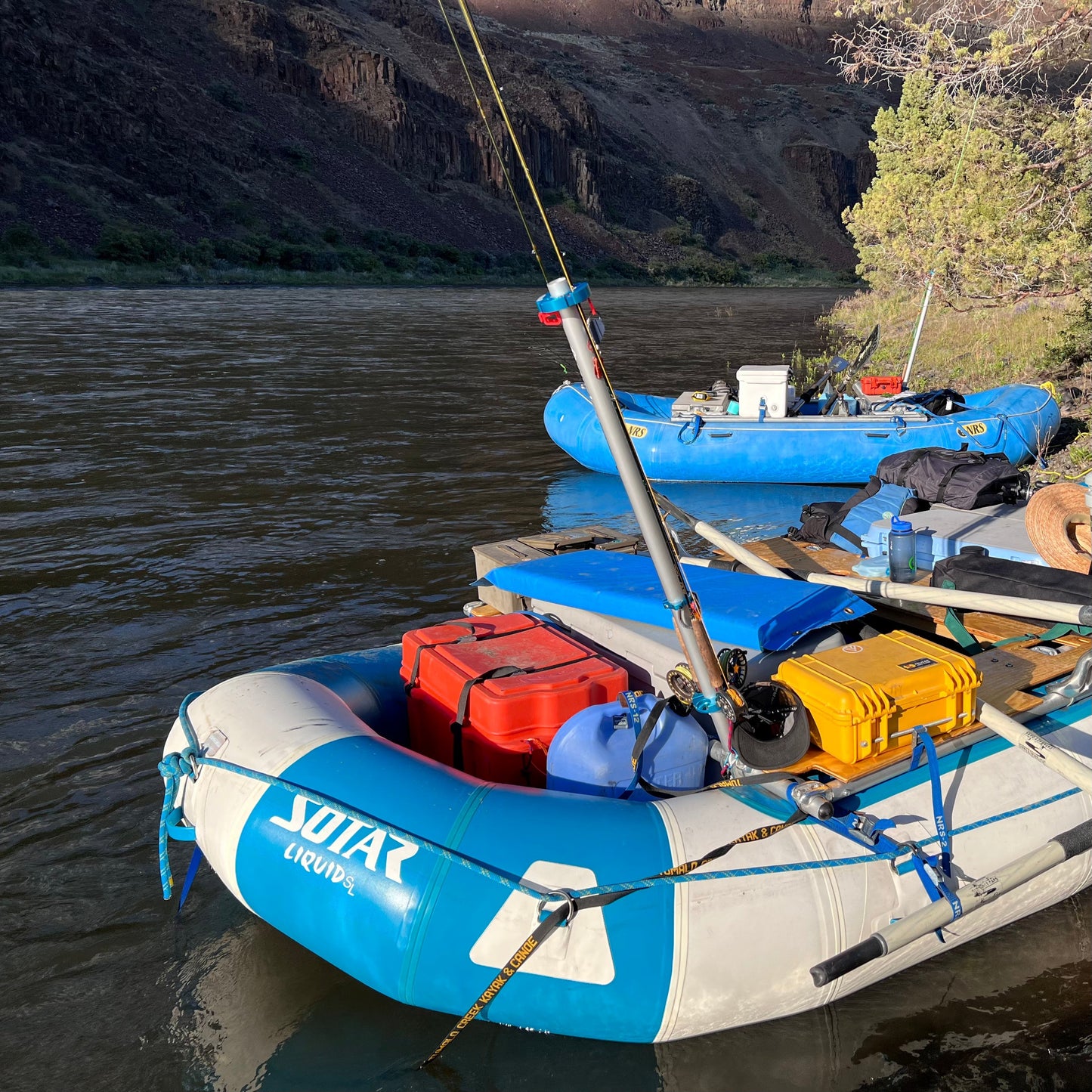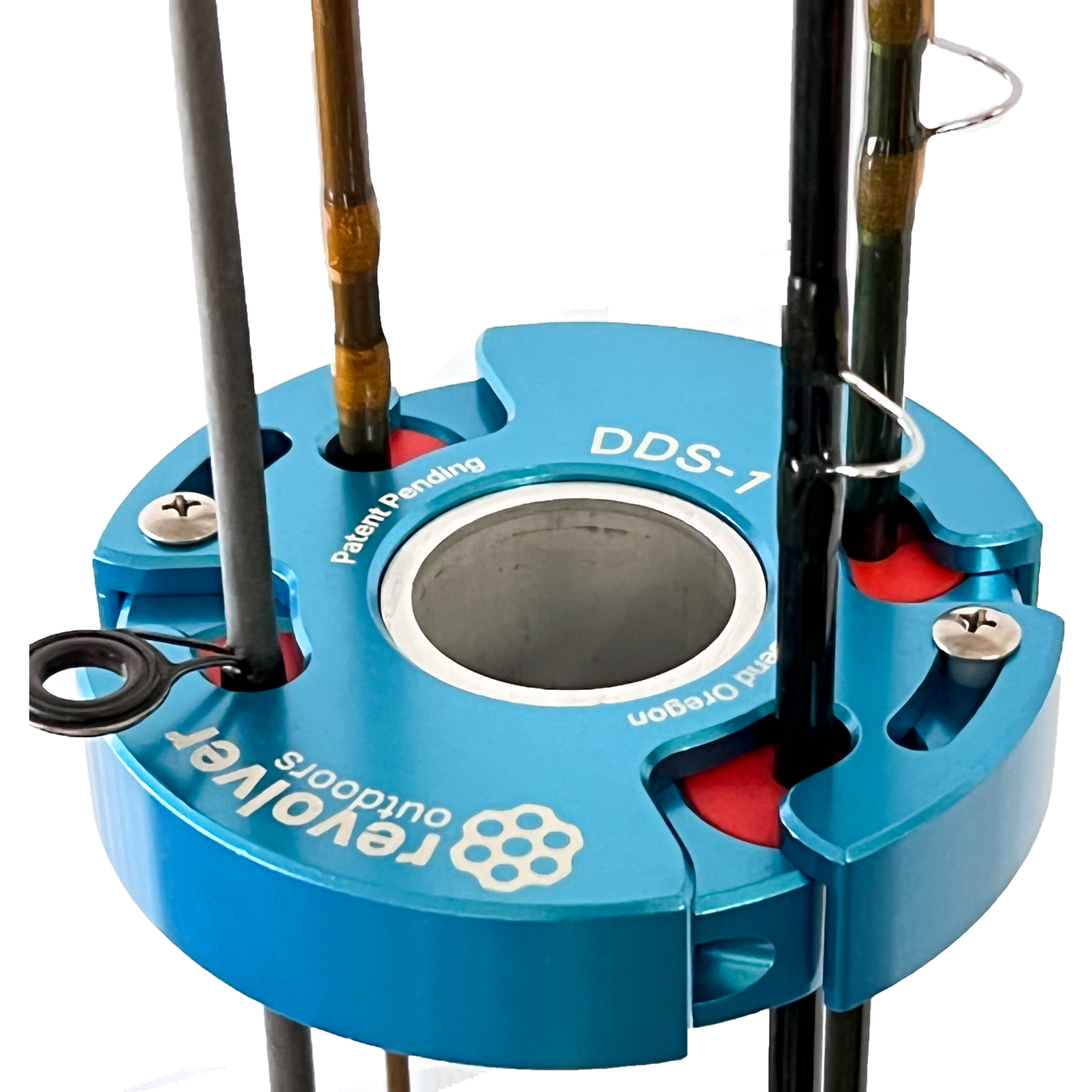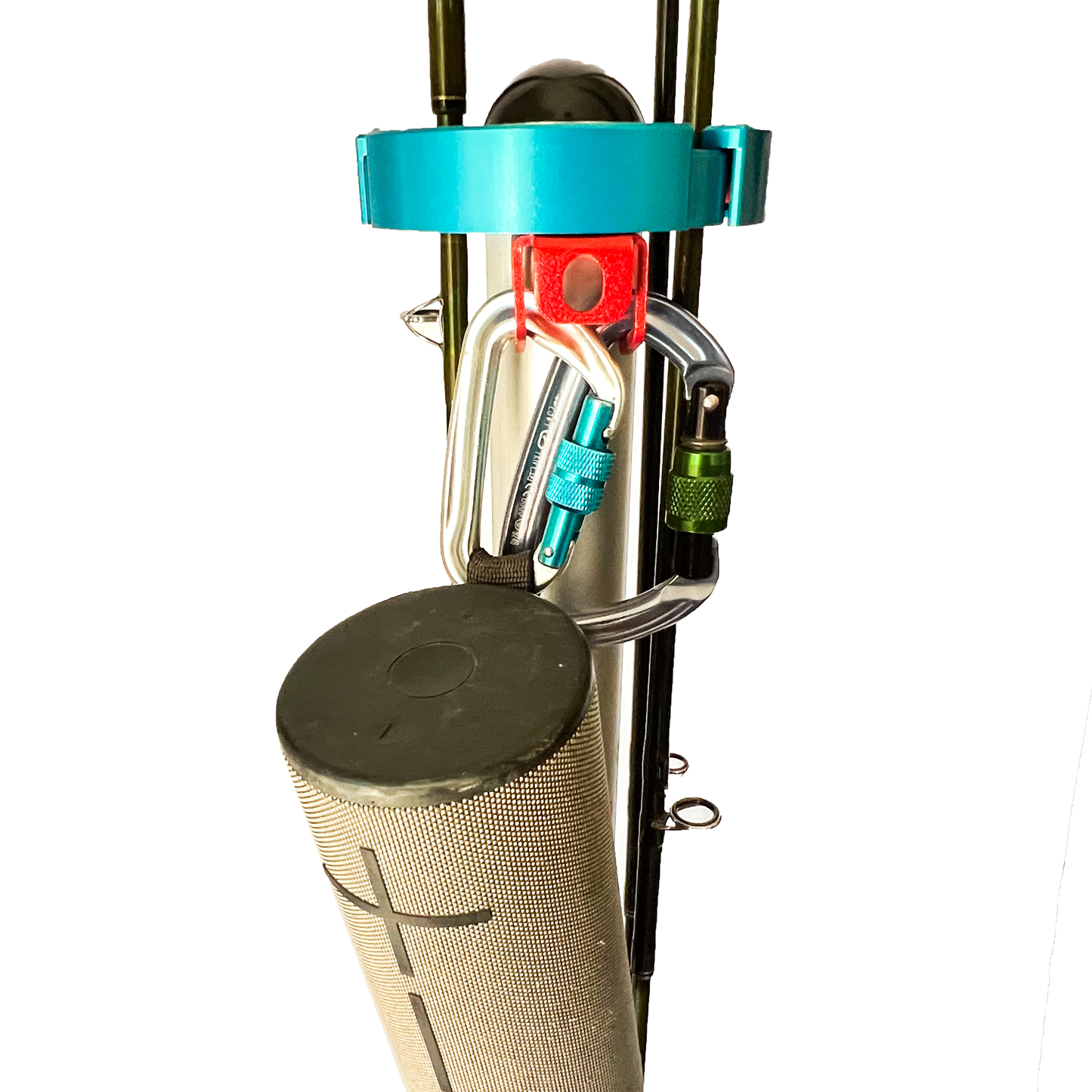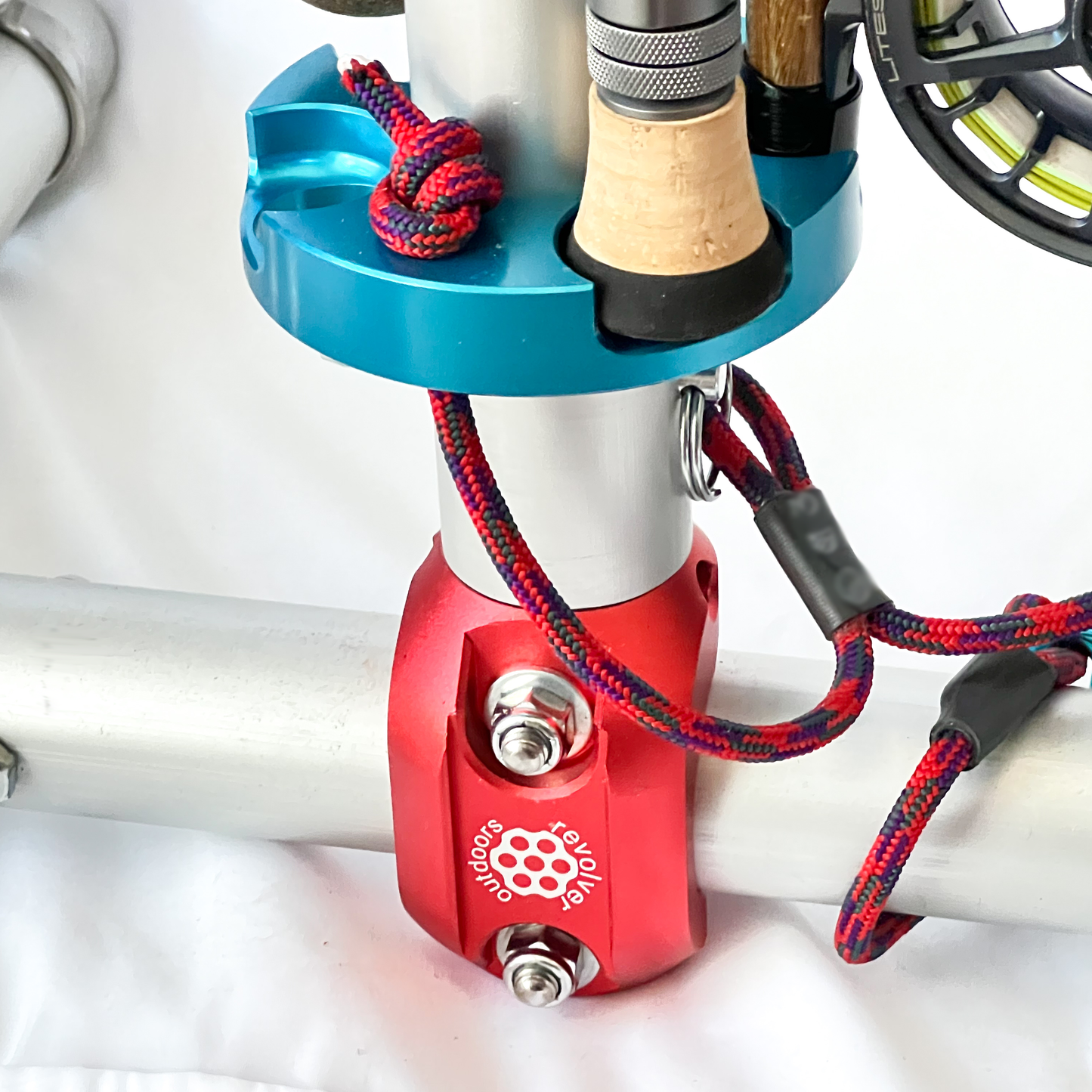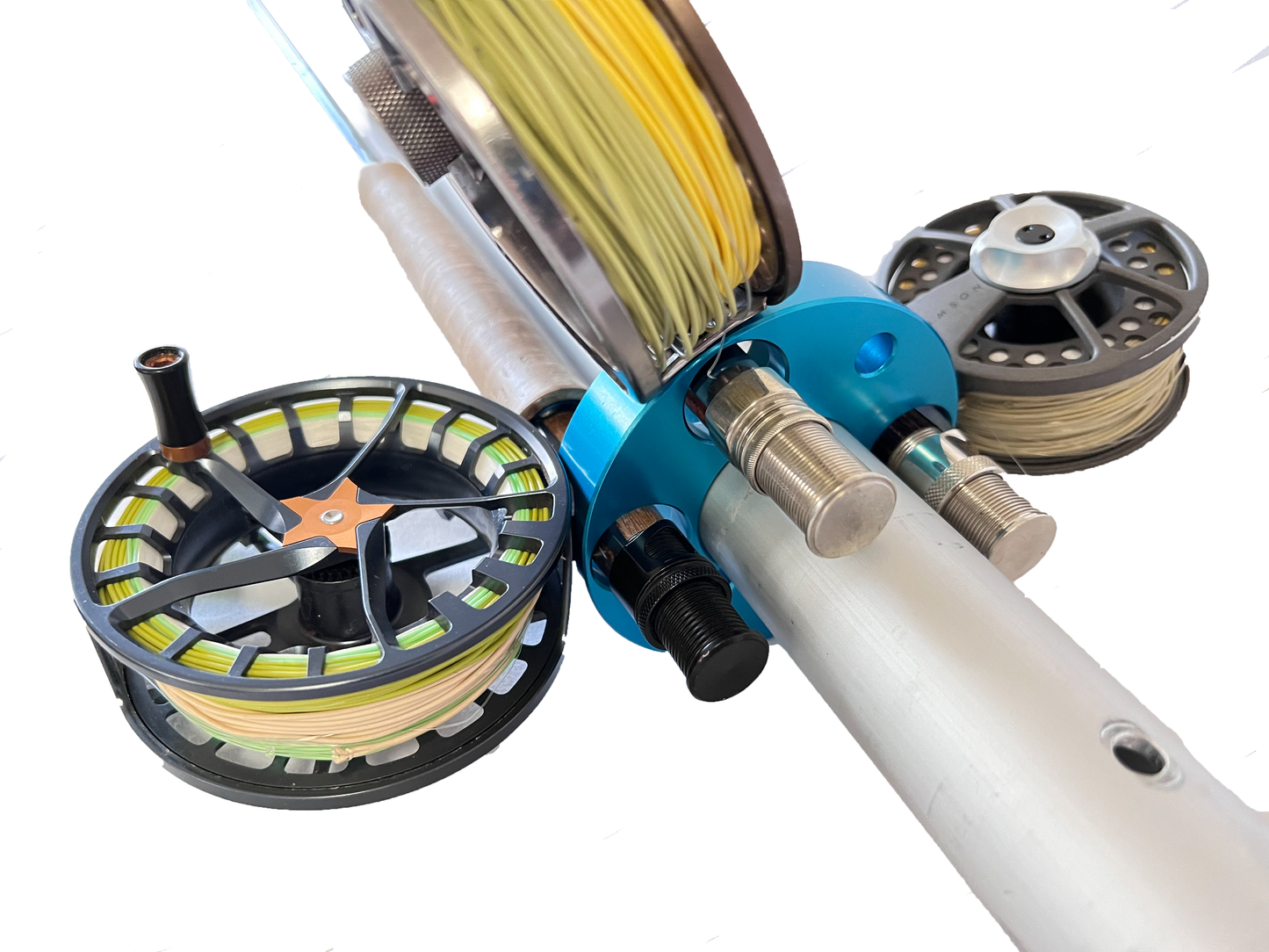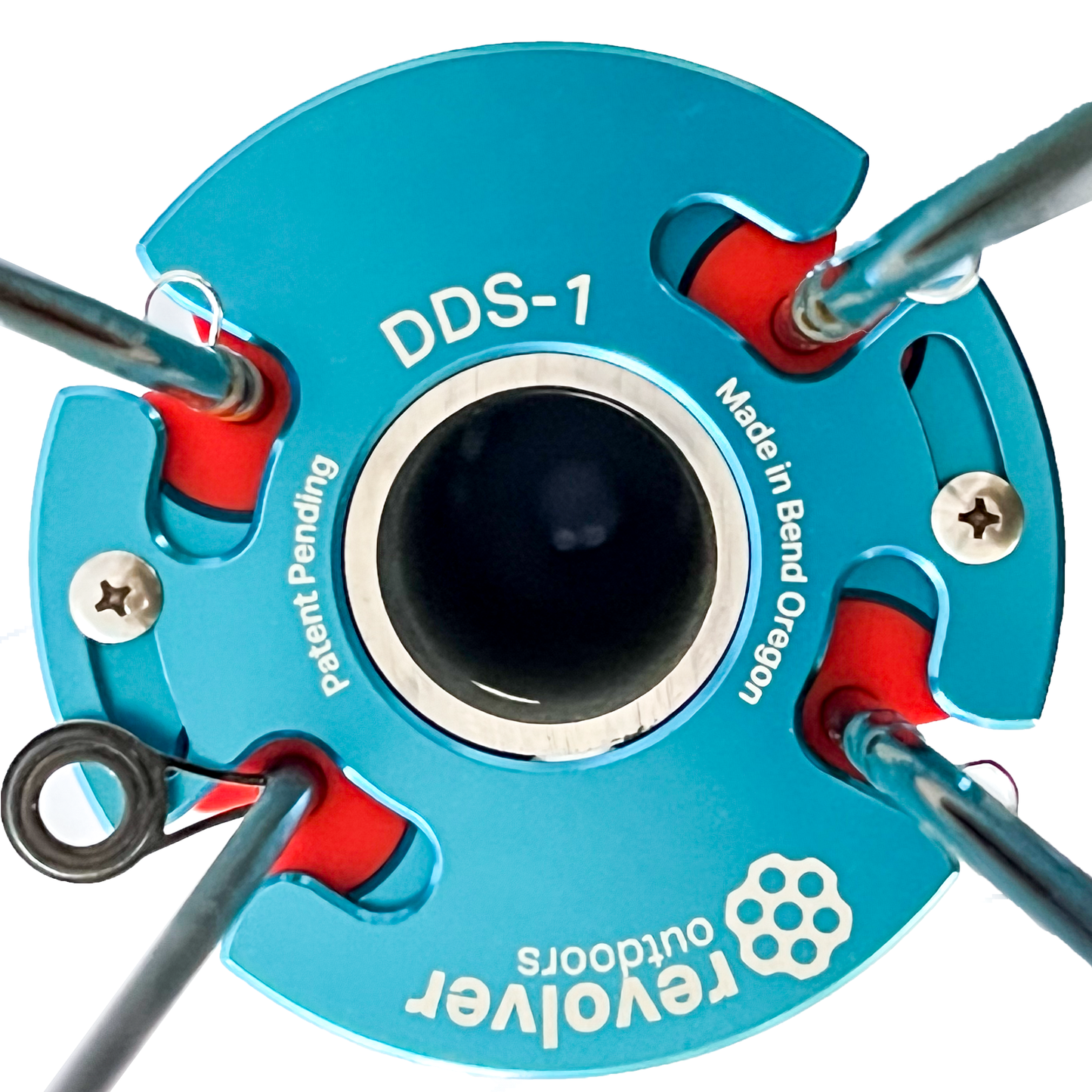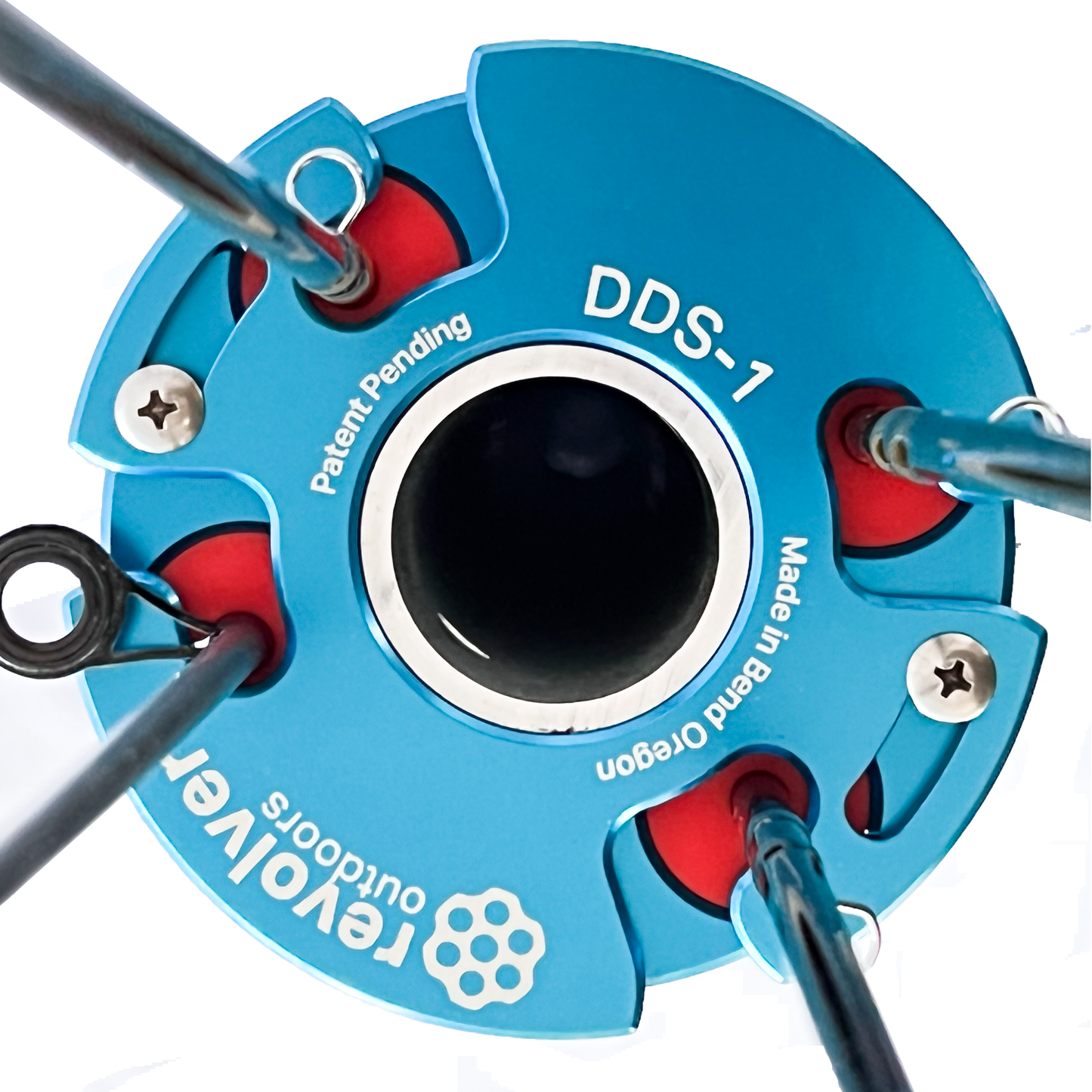 Rad Revilver Outdoor Rod Holder
For years we struggled to find a solution for rods on our raft. With kids and dogs we didn't want to risk breaking our fly rods. The Revolver Outdoor was the perfect solution. It kept our cherished fly rods tucked safely out of the way while still accommodating the kids spinners. It also has numerous hooks and attachments for nets, hats and speakers. It worked so well on our 18' pro frame and was easily switched over to our 14' down river frame for a second lap with just the ladies. This is a must for any rafter looking to keep the chaos of rods to a minimum.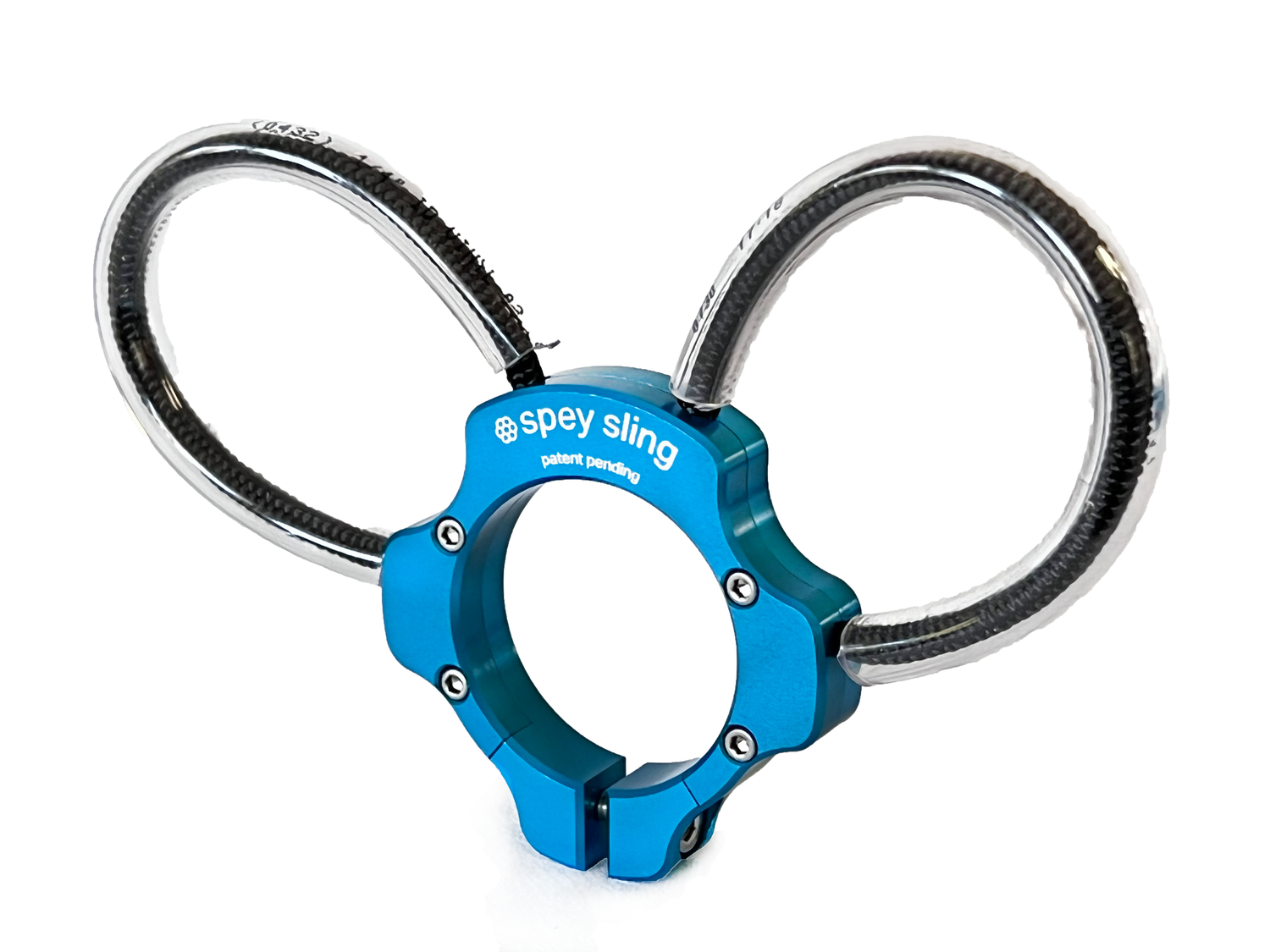 Protect Your Entire Quiver
The DDS alone get's you 90% there, but what about Steel Head season, when you need those big rods, fighting butts, two handed rods, and your whole aresenal to land the big one. The Spey Sling add-on is the answer.
Free Shipping

Enjoy free shipping on orders over $150. So add a few accessories to the basket.